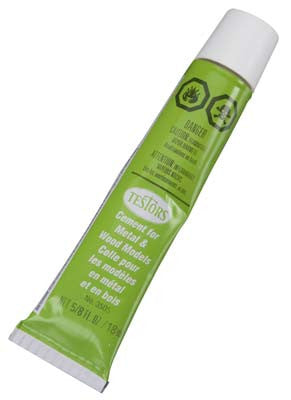 Testors
Testors Wood Cement Fast 5/8 oz (TES3505X)
---
This is the 5/8 ounce (18ml) Tube of Testors Cement For Metal and Wood Models.

FEATURES
Strong fast drying cement is specially formulated for joining wood,
metal, polystyrene and most rigid plastic.

INCLUDES
One 5/8 ounce (18ml) Tube of Cement for Metal and Wood Models.

REQUIREMENTS
Applying to both surfaces to be joined, allow to dry for a few
seconds, press together, hold and allow two to four hours drying
time for bonding metal, and twelve hours for bonding wood.

COMMENTS
CAUTION, Contains Toluol and Isopropyl Acetate. MAY CAUSE EYE, SKIN,
NOSE AND THROAT IRRITATION. Keep away from heat, sparks and flame.
Vapors may cause flash fire. Use only with adequate ventilation.
Avoid breathing vapors and contact with eyes and skin. In case of
eye contact, flush immediately with plenty of water and get
medical attention. Recommended for modelers ages eight and older.
Contains the deterrent Oil of Mustard (allyl isothiocyanate).
For emergency health information, call 800-962-1253. Conforms to
ASTM D-4236.
WARNING: This product contains a chemical known to the state of
California to cause birth defects or other reproductive harm.
---
Share this Product