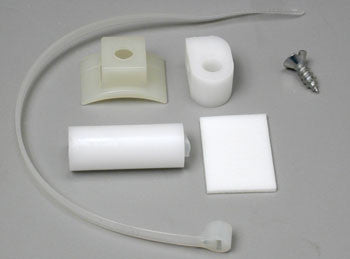 Dave Brown
Dave Brown Tuned Pipe Mounting Kit (DAVTPMT)
---
This is a Tuned Pipe Mounting Kit for Radio Controlled Aircraft.
FEATURES
Designed To Mount Tuned Pipe Underwing (Removable) OR Fuselage Side
OR Fuselage Top Mount.
Fits 6.5cc to 15cc Tuned Pipes.

INCLUDES
One Double Sided Tape
One Zip Tie
One #8 Screw
One White Plastic Standoff
One White Plastic Standoff Mount
One White Plastic Cradle
One Instruction Sheet

REQUIREMENTS
One 1/4 - 20 Bolt For Standoff, Use GPMQ4402.

COMMENTS
Modeler May Have To Cut Standoff To Required Length
For Fuselage Side or Top Mount, Modeler Will Have To Screw The Cradle
Directly To Fuselage or Use Standoff With #8 Screw (Included).
---
Share this Product