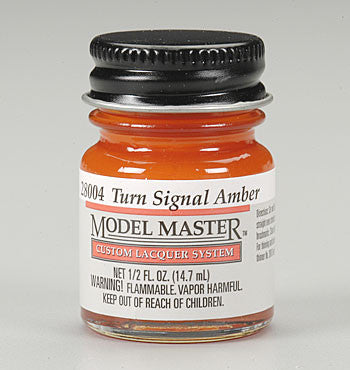 Testors
Testors Model Master Turn Signal Amber 1/2 oz (TES28004)
---
This Jar of Turn Signal Amber Paint is Part of the Testor
ModelMaster® Automotive Colors Custom Lacquer System. 
Duplicating the vivid colors in automotive history on model cars
is now possible with this specially formulated automotive lacquer
authentically matched to factory specs.
The key is the proven 2-step process with separate color and
high gloss clear coats--just like premier paint finishes on
the real cars!
Fast drying.
Provides an extremely durable finish that can be sanded and buffed
for a smooth, flawless finish.
This special formula won't craze or soften styrene.
Glass jar with metal screw-on lid.
Use only Testors' Lacquer Thinner (TESR3015) for thinning
and cleaning paintbrush. 
(1) Jar of Paint 
Net 1/2 fl oz (14.7ml) 
Solvent based products cannot be shipped outside the Continental US
---
Share this Product