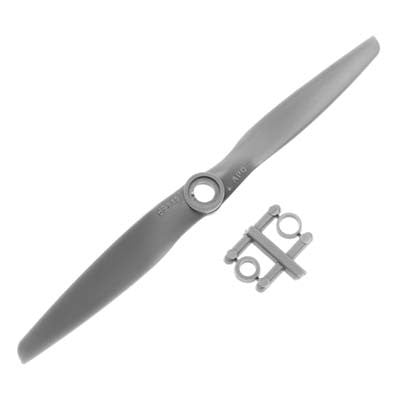 Horizon Hobby
APC 9x6 Thin Electric Pusher Propeller (APC09060EP)
---
This is a 9x6E Thin Electric Pusher Propeller from
Advanced Precision Composites.
FEATURES
Gray composite one-piece construction

INCLUDES
One 9x6E Thin Electric Pusher Propeller with 0.128, 0.158, 0.197,
0.237 and 0.313" adapter rings

REQUIREMENTS
ALL props require balancing, this is VERY important, use TOPQ5700.
May need prop reamer, use GPMQ5005 (SAE) or GPMQ5007 (Metric)

SPECIFICATIONS
Diameter: 9"
Pitch: 6
Hub inner diameter: 0.25" (6.35mm)

COMMENTS
For electric use only. Do not use with gasoline or nitro powered
aircraft.
---
Share this Product