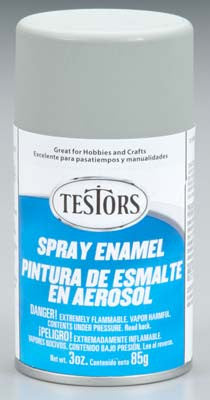 Horizon Hobby
Testors Spray Dark Aircraft Gray 3 oz (TES1226T)
---
This is a 3oz (85g) can of Flat Dark Aircraft Gray Enamel Spray Paint.

FEATURES
Made of enamel and is flammable and toxic.
Can be used for:
models, ceramic, plastics, leather, stone, metal, styrofoam,
crafts, wax, glass, paper, figures, fabric, wood and touching
up purposes.
Not suitable for polyethylene or vinyl.
Contains no lead or harmful CFCs.
Easy-to-hold can.
Does not exceed 80% VOC by weight.

INCLUDES
One 3oz (85g) Can of Flat Dark Aircraft Gray Enamel Spray Paint.

REQUIREMENTS
Eye, Lung and Skin protection.

COMMENTS
Keep out of reach of children.
Highly Flammable Paint, avoid heat, flame or puncturing can.
Avoid eye contact, skin contact or prolonged breathing of vapors,
best to use in a well-ventilated area.
Inhaling contents is harmful to respiratory tract and nervous
system.
Product has chemical known to cause birth defects and other
reproductive harm in the state of California.
Shake can vigorously before using, reshake often and use at room
temperature.
For best desired results, test product first.
Spray with even strokes and do not stop painting in the middle, for
the best results.
To avoid wrinkling, recoat within 3 hours or after 48 hours.
To clear valve after use, invert can and spray several seconds, if
nozzle clogs, clean with thinner.
---
Share this Product