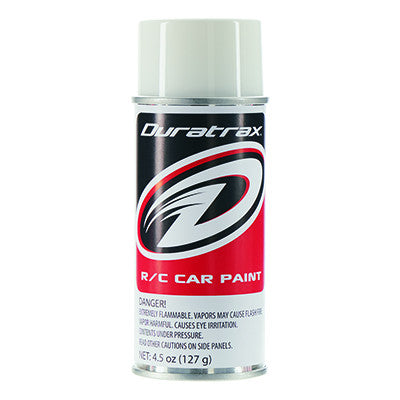 Horizon Hobby
Duratrax Polycarb Spray Base Backing Cover Coat 4.5 oz (DTXPC290)
---
This is a 4.5oz spray can of Duratrax Base Coat Paint for Polycarbonate RC Vehicle Bodies.
FEATURES
4.5oz (127g) aerosol can is enough to cover nearly any RC car or truck body
For use on the underside of polycarbonate plastic RC bodies
Apply at temperatures between 60-80°F (15-26°C) and low humidity
Color matching cap
INCLUDES
4.5oz spray can of Duratrax RC Vehicle Paint
COMMENTS
Extremely flammable, vapors may cause flash fire
Vapors harmful, causes eye irritation
Contents under pressure
Keep out of reach of children
First Aid; If swallowed, do not induce vomiting. In case of eye contact, flush thoroughly with water. For skin, wash thoroughly with water. If you experience difficulty in breathing, leave the area to obtain fresh air. Get medical attention.
---
Share this Product