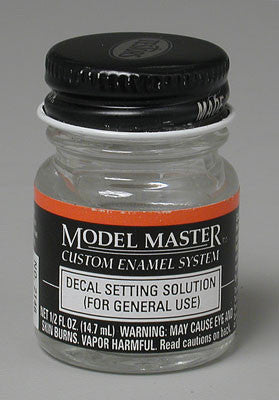 Testors
Model Master Decal Setting Solution 1/2 oz (TES2146)
---
Apply solution to a buffed out or glossed surface; dip decal in water
for 10 sec.; place decal on tissue for 1 min.; position decal;
reapply solution; after 3 min. blot decal using a moist tissue;
reapply if necessary; wait 24 hours prior to protective over-
coating.
Glass jar with black metal screw-on lid.
1/2 Oz. of Decal Setting Solution.
Waterslide Decal
Water
Tissue
---
Share this Product