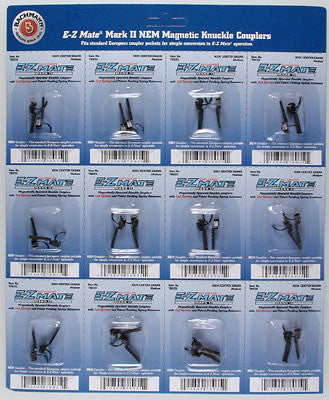 Horizon Hobby
Bachmann E-Z Mate II NEM Coupler Center Shank Med (12) (BAC78035)
---
This package contains 12 Pairs of Bachmann E-Z Mate Mark II NEM Magnetic Knuckle Couplers (NEM Center Shank--Medium) designed for your HO Scale Rolling Stock.

FEATURES
Magnetically operated knuckle couplers with coil springs and patent pending spring retainers.
NEM Coupler--fits standard European coupler pockets for simple conversion to E-Z Mate operation.
Fits most HO scale locomotives and rolling stock with built-in draft gear boxes (coupler pockets).
12 units, each unit with one pair of couplers. Units are joined together by perforation.
Integrally-molded springs.
E-Z Mate eliminates the problems and expense associated with separate coil springs.
These couplers operate with a standard metal "glad hand" and under track magnet.
Compatible with all magnetically operated knuckle couplers.
Installation instructions provided on each individual package.
Packages are individually bar coded for ease of sale.

INCLUDES
12 Pairs of NEM Center Shank Medium E-Z Mate Mark II Couplers

REQUIREMENTS
Standard Metal Glad Hand
Under-Track Magnet

SPECIFICATIONS 

COMMENTS
Bachmann's under-track magnet comes with a trackside brakeman figure to indicate the magnet's position (BAC78999).
---
Share this Product