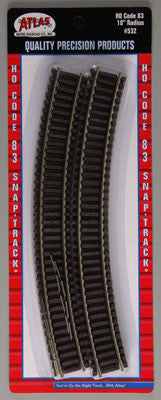 Atlas
Atlas Code 83 18" Radius Track (6) HO (ATL532)
---
This is a Set of Six HO Code 83 Curved Track Pieces with a Radius of 18".  It's made by Atlas for experienced train collectors.
Code 83 Track: the "Code" of a piece of track is the height of the rail in
thousandths of an inch. Code 83 rail is .083" high and more to scale than
Code 100 track.
FEATURES
Brown railroad ties with nickel-silver rails.
Snap track.
Made in the USA.
INCLUDES
Six HO Code 83 Curved Track (18" Radius)
Four Silver/Nickel Rail Joiners
SPECIFICATIONS
COMMENTS
Code 83 track may be used with other Atlas or Roco track products, both Code 83 and Code 100 by using conversion joiners.
---
Share this Product