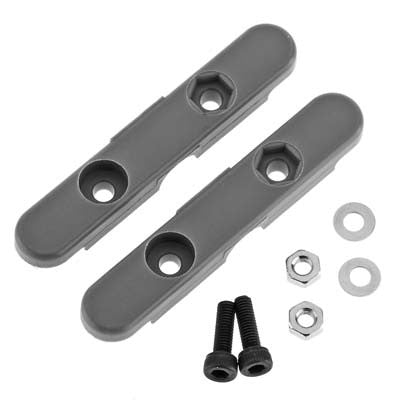 Horizon Hobby
APC Folding Propeller Hub 45mm (APCFH3)
---
This is the 45mm Folding Propeller Hub for a 40mm Spinner   from Advanced Precision Composites. For use on Electric powered aircraft only (not for gas engines).

FEATURES
Two-piece, gray composite propeller hub that goes on each side of the folding propeller blades to hold them in place (blades are not included, see REQUIRES).
Hub has molded nut insets for easy tightening.
Comes in a bag attached to a header card


INCLUDES
One composite propeller hub
Two 3x10mm cap head screws
Two 3mm nuts
Two 3mm washers


REQUIREMENTS
Propeller blade sets (use APCLP05050F through APCLP11080F).
2.5mm hex wrench to tighten cap head screws.
Hand and eye protection when operating propeller.


SPECIFICATIONS 
Overall Length: 58mm
Length between blade mounting centers: 45mm
Inner mounting diameter: 8mm


COMMENTS
See propeller blades for assembly instructions.  Sailplanes have no landing gear, and therefore would break a rigid propeller when the plane came in for a landing. The folding propeller folds back upon landing.
---
Share this Product